Art Show Reception & Raffle
with local artist Joe Profita
Saturday, October 15 from 5 – 8 pm
The Project Room at Independent Project Press
(186-A Willow St. in Bishop)
This fall, The Project Room at Independent Project Press will be exhibiting the "Alternative Process Photography" prints of local artist and ESLT member, Joe Profita – and 30% of all sale proceeds will benefit Eastern Sierra Land Trust's conservation work.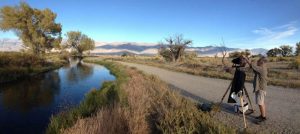 Join us this Saturday for the show's opening night reception and raffle!
On opening night, join us for complimentary snacks and beverages while we hear from Joe about his "very old school" printing techniques. All of his original photographs on display will be available for purchase.
A raffle held Saturday night will feature one of Joe Profita's handmade photographic accordion-fold books (also offered for sale), as well as prints by Independent Project Press co-owners and ESLT members, Bruce and Karen Licher.
Can't make it this weekend? Not to worry: Joe Profita's work will be featured at The Project Room the following Saturday, 10/22 during the annual Bishop Chocolate Art Walk.
Joe Profita's "Alternative Process Photography" will continue to be displayed until January 14, 2017. For the show's duration, 30% of all sale proceeds will benefit Eastern Sierra Land Trust. Gallery hours are from 11 am – 3 pm on Saturdays, and by appointment during the week.
Joe Profita's alternative process photography will be featured this fall at The Project Room.
About the Artist
Many locals already know Joe Profita from his years of teaching chemistry at Bishop High School. Joe retired from teaching a few years ago, but he has definitely not retired from practicing chemistry! Joe continues to work producing enigmatic photographic images, created from the mysterious alchemy of such substances as solutions of platinum, palladium, and iron salts, sodium carbonate and tannic acid.
Joe Profita's careful hands-on processing and deliberate experimentation combine over time to yield surprising, arresting images of stunning presence, and a timeless quality of light. In order to produce these images, Joe continues to experiment with finding and creating his own cameras, papers and chemistry.