ANDREW CHARLES PUCIO
1939 – 2018
Born 12/12/1939 Los Angeles, CA –  Died 11/25/2018 Renown Hospital, Reno, NV
Andy lived a productive and faithful life in peaceful, quiet dignity.  Feeling a need to serve at an early age, he joined the Boy Scouts in Los Angeles where he learned to cherish nature and honor his community.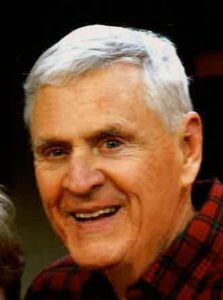 Taking him throughout the Pacific Ocean, he served as a radio operator in the Navy from 1958-1963 on the ship, "Tulare."  His first job after discharge was with the Pacific Telephone Co. in L.A. for 2 years. Following in his father's footsteps he then joined the San Diego Fire Department from 1965 -1979, retiring at the rank of Captain.  During that time he helped start the city's first paramedic program.
After retiring from public service, Andy wished to go back to school becoming the first one in his family to graduate from college.  He earned a Bachelors degree in Geography from Cal State Fullerton, which further deepened his appreciation for earth sciences and history.
He and his dearest love, Kay, built their dream home (and dream garden) in Bishop in 1994 where he began serving the community.  Skilled with his hands, he contributed to the development and restoration of the Brill Car woodwork at Laws Railroad Museum. He was a licensed ham radio operator and patiently taught Kay to pass the tests and become one too.
Daily he tended to his garden and enjoyed long walks along trails in the Owens Valley.  He grew vegetables and flowers, built model airplanes, fixed anything and everything, and was always there to lend a helping hand.
Passing the beauty of the Eastern Sierra's natural and human history to his grandchildren, he taught them to read the clouds, kayak the lakes, appreciate the petroglyphs, fly kites in the cattle pastures, and build snowmen on the occasional white Christmas.  To them, he also passed along his obsession for Cowgirl Cookies and sourdough bread from the Great Basin Bakery.
Andy was a member of First Presbyterian Church of Bishop and Treasurer for the Eastern Sierra Flyer Radio Controlled Aircraft club.
He is survived by wife, Kay (Bishop, CA); children, Melanie Foster, husband Scott (Irvine, CA) and Andrew Chaney, wife Chris (Wichita, KS) and his 6 grandchildren, Miranda, Nathaniel, Anastasia, Wyatt, Abigail, and Levi.
They will miss his heartwarming "ho ho ho" at Christmas time, his stories of his world travels, and his strong steady hugs most of all. This quiet, gentle man was dearly loved and his memory will be forever cherished.
Services will be Saturday, December 15, 2018 at the First Presbyterian Church, 10 AM, 585 N. Main Street, Bishop.  Refreshments will follow & all are invited. Interment will be after, at Pioneer Cemetery, East Line Street, just past the turn off to the airport.  
In lieu of flowers, donations in memory of Andrew Charles Pucio may be made to First Presbyterian Church, 585 N. Main Street, Bishop, CA 93514.