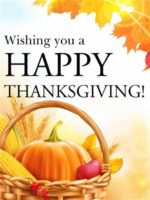 We would like to say thanks to each and everyone of you. You are a very important part of our Sierra Wave Media family.
Thank you for being a part of our family. Thank you for your passion. Thank you for your trust. Thank you for your support.  And thank you for listening.
The entire staff of Sierra Wave Media – KSRW-FM 92.5 wish you and yours a very Happy and Healthy Thanksgiving.
And please keep listening and visiting our website sierrawave.net!