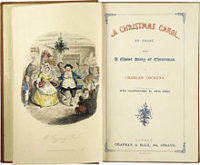 A Christmas Carol recounts the story of Ebenezer Scrooge, an elderly miser who is visited by the ghost of his former business partner Jacob Marley and the spirits of Christmas Past, Present and Yet to Come. After their visits, Scrooge is transformed into a kinder, gentler man.
A Christmas Carol, is a novella by Charles Dickens, first published in London by Chapman & Hall in 1843 and illustrated by John Leech.
This presentation by Sierra Wave Presents on KSRW 92.5 is a shorten version of the  story but still gives the listener a wonderful experience.
Listen to KSRW 92.5 Monday December 13 at 11:00 am, Wednesday December 15 at 3:00 pm or Friday December 17 at 8:00 pm