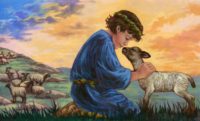 The Savior is born! Come and see!
This a story of the very first Christmas. When a little shepherd boy Joel is startled by the crying of an orphan lamb his Uncle told him to run to the lamb and the lamb will be his.  Later Joel and the other shepherds awoke to the unexpected brightness of angels and they are delighted to learn that a baby boy has come to save the world.  They all followed the star to the manger and there the little shepherd learns the gift of sacrafice and the lesson "It is more blessed to give than to receive"
This beautiful Christmas tale was written by Walter A. (Hank) Richards Jr. Broadcasting innovator Richards wrote for radio show classics including Dupont's "Cavalcade of America" and "Lux Radio Theater." His 1954 children's story, "The Gift of the Little Shepherd," written for NBC, has been on the air or in print every year since he created it.  The story is narrated by Actor Marvin ("The Millionaire") Miller.
Listen to KSRW 92.5 Monday December 6 at 11:00 am, Wednesday December 8 at 3:00 pm or Friday December 10 at 8:00 pm