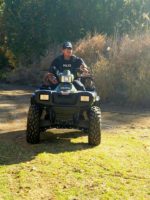 According to Tribal Chief of Police Arron Julian, the Bishop Paiute Police ATV Patrol Unit safeguards agricultural areas, conservation land, undeveloped land and responds to emergencies in areas that are
inaccessible by other vehicles. While patrolling, officers aggressively enforce trespassing and other laws.
The ATV patrols will be equipped with first aid and rescue equipment.
The ATV Patrol Unit was developed and implemented in August 2021 in response to problems identified through community input and analysis of calls for service regarding trespassing of recreational vehicles and damage to agricultural property, and trails on the Bishop Paiute Reservation.
Bishop Paiute Police Department will be collaborating with other agencies and offer their assistance for any emergency calls for service.  The Bishop Paiute Police Department looks forward to helping keep the Bishop Paiute Tribal community safe, by taking additional procedures like implementing our ATV program.
The Bishop Paiute Tribe is a federally recognized Indian tribe located on its 879 acre Bishop Paiute Reservation in Inyo County, California. The Reservation was formed under Congressional Act 5299, P.L. No. 43 of April 20, 1937. The Tribe is committed to the well being of its people.
For more information please contact the Bishop Paiute Tribe at (760) 873-3584.