Will high gas prices erode tourism in the Eastern Sierra? That's the fear, but as for the opening of trout season, fuel didn't seem to stop anyone.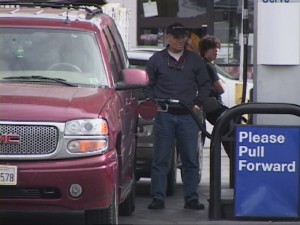 Before the opener, famous Trout Man Tim Alpers predicted gasoline prices would not hold diehard trout fans away from the start of the season.
John Frederickson, owner of Crowley Fish Camp, also said gas prices did not keep anglers away. But he predicted that later in the season when families usually come up to fish, gas prices might make a difference.
The average price of gas for a gallon of unleaded has begun to break the $4 mark all over the state. Mammoth Lakes now sells a gallon of regular unleaded at $4.19. In Bishop and the Owens Valley, prices range from $3.89 per gallon to just over $4.00.
The Auto Club noted the $4 per gallon mark for a bigger, metropolitan area – San Francisco. The statewide average still lingers at $3.91. That's 52 cents higher than one year ago.
The issue of California oil and gas refineries switching to a summer blend is over and refineries are coming back on line. The same old reasons for higher prices continue – supply and demand, plus very high oil prices over more than $100 per barrel.