News release
On Wednesday September 6th at approximately 7:00 pm Inyo County Sheriff's Deputies arrived at the residence of Allen "Ziggy" Stone to serve two active felony warrants.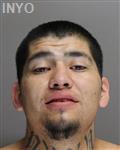 After confirming that Stone was in the residence a perimeter of the property was set with the assistance of the Bishop Police Department, California Highway Patrol, and Mono County Sheriff's Department.
After about fifteen minutes of dialogue encouraging Stone to surrender peacefully, he was taken into custody without incident.