All of us can use a "feel-good" story, especially these days, so here's one:
Three weeks ago, Laura and Greg Smith of Bishop found a very young, emaciated, and almost dead, red-shouldered hawk while walking along the bike path behind Our Lady of Perpetual Help Catholic Church. The undeveloped area is popular with bicyclists, hikers, runners, and people just out for a stroll to enjoy nature. Laura named the bird "Halo," hoping that there was an angel looking over the bird's being found and eventual recovery.
According to Laura, "Greg was able find a blanket in the car to gently pick the bird up and then take it out to the Eastern Sierra Wildlife Care. With their wonderful care and God answering our prayers, the hawk is now robust in health. After three weeks of care by the staff and volunteers, we received a message that "Halo," the young, now very healthy red-shouldered hawk was ready to be released back into the wild in the same area where the Smiths found it."
On Tuesday, Sept. 22, the Smiths met Eastern Sierra Wildlife Care Director Cyndy Kamler, DVM, joined by ESWC volunteers Dawn and Jim Lamb, at the field behind the church to watch as the young hawk was released. For those of us watching, it was truly inspiring sight to watch as this young, but now healthy bird, so close to death just three weeks ago, take flight into the nearest tree, fluttering and jumping from limb to limb, seemingly full of zest and energy.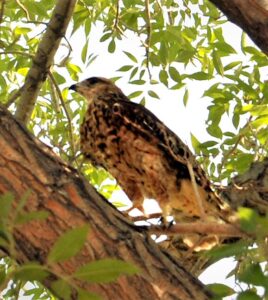 With all of us reeling from the burdens imposed by this coronavirus pandemic, with its social distancing requirements, and economic upset; coupled with the seemingly endless wildfires filling the air with heavy, unhealthy smoke for weeks on end, sharing this moment with others was an uplifting gift.
This young bird was given a chance at a "new life" thanks to a caring couple, the Smiths who found it and took it to the people at the Wildlife Care Rescue. Kamler said, "Frankly, it was so young and so emaciated, I didn't think it would make it." But it did, and you could see how happy that made Kamler, which is why she is so dedicated to rescuing wild animals.
The need to rescue and care for displaced wildlife is especially great right now as many millions of wild creatures of the forest and grasslands are being killed, injured, and forced from their homes because of the incredible devastation from the record-breaking number of wildfires. Wildlife Rehabilitation Centers are being overwhelmed with the vast numbers of wildlife now needing help to survive.
Eastern Sierra Wildlife Care, which is physically located at Keough's Hot Springs, located 7 miles south of Bishop, can really use your help.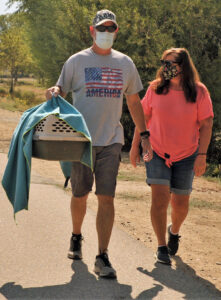 ESWC needs volunteers and financial resources (i.e. donations!) to save animals right now. Whether your time your money, or both, you can experience the uplifting "gift" of saving the lives of animal with whom we share this planet. We all too often take them for granted.
Please call, visit, or click on the following links to donate and/or volunteer to help our friends, both the staff, volunteers, and wildlife at Eastern Sierra Wildlife Care. Send donations to P.O. Box 368, Bishop, CA 93515. Call them at (760) 872-1487 or send an email to [email protected].