News release from Yosemite National Park
Les Marsden
President, Yosemite Gateway Partners
As your YGP President, I wanted to share this latest just-announced information with you:
Yosemite Valley will remain closed indefinitely.
You probably know the Ferguson Fire has now raged for 24 days, has taken the lives of two firefighters and injured 11 others. Its size – as of 6 AM this morning, easily surpassed that of last year's devastating Detwiler Fire in Mariposa County.
In little more than three weeks the Ferguson has consumed 89,633 acres. That's already about 8,000 more than the final figure for the Detwiler, and THAT fire reached its total number last year – after burning for seven weeks.
The Ferguson is 35% contained, and I expect acreage involved to again increase when tonight's totals are released.
The fire has unfortunately been hitting three areas of great importance to Yosemite very hard in the past few days – Wawona Road (Highway 41) near Chinquapin, where the fire actually leapt across that road yesterday and began burning up Glacier Point Road, with substantial new acreage involved. There has been a large fire camp at Yosemite Ski and Snowboard Area (Badger Pass) and the safety of our first responders of course remains tantamount.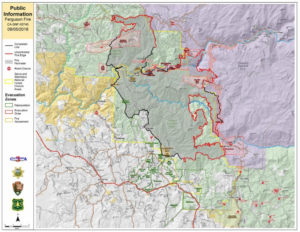 The fire has also burned into the park from the Merced River Canyon (El Portal Road inside the park, Highway 140 outside) – and is now actively burning above the Arch Rock Entrance, which has been closed for most of the fire's activity period. Word has it that the fire is burning east, towards west Yosemite Valley. Outside the park, the entire El Portal Community has been evacuated, in some instances for a second time.
Fire is also threatening the community of Foresta inside the park, necessitating the closure of Big Oak Flat Entrance and Road (Highway 120 outside the park.)
Yosemite Valley itself remains filled with acrid smoke – with no place to vent. The valley was closed and then later evacuated due to health considerations of visitors and all employees who work in the valley. It was, and remains: literally and simply a risk to human life to breathe there, and now all the roads into the valley are closed.
Which is my way of trying to ease the news which follows. The closure of Yosemite Valley has been a great hardship for the park itself, but also for so many of our gateway mom and pop businesses who rely upon THIS, the high season: for the very existence of their companies. The decision to keep the valley closed indefinitely was a terribly difficult one to make, and was only made with all the best information available. The Yosemite Gateway Partners organization wants you to know we stand with you, with every gateway, with the National Park Service and its staff in Yosemite – all of who been particularly hard-hit and of course, with all our friends in Yosemite Hospitality, a Division of Aramark.
The Tioga Pass entrance to Yosemite National Park (Highway 120 East, Tioga Road in the park) remains open – with all the services, amenities and sights along that corridor (including Tuolumne Meadows) ready for visitors.
Please scroll down for the official information from Yosemite, as well as a link to the interactive version of today's fire map – and remember to keep the safety of all our first responders in your hearts and minds.
Sincerely,
Les Marsden
President, Yosemite Gateway Partners
###
Yosemite Valley and other Sections of the Park Remain Closed Indefinitely Due to Impacts from the Ferguson Fire.
Tuolumne Meadows and Tioga Road Remain Open from U.S. 395.
Due to increased fire activity in the areas adjacent to and on Yosemite National Park, park administrators and fire managers have made the decision to extend the current park closures indefinitely. Fire managers are continuously assessing conditions in the area and will work directly with and will immediately advise park managers as conditions change and it becomes safe to reopen.
Firefighters remain committed to fully suppressing this fire and are actively engaged, taking action to limit the fire's spread when it is safe to do so. The fire activity inside Yosemite National Park is dynamic. Over the past 48 hours, fire has impacted all of the roads used to access Yosemite Valley, burning dead and downed trees that can become very explosive and fall without warning. There are also significant terrain hazards for firefighters. These hazards, along with extreme fire behavior and frequent weather changes, have made this an extremely difficult fire fight.
There is active fire burning above the Arch Rock Entrance Station, moving up the Merced River Canyon towards West Yosemite Valley.There is active fire burning near Foresta and structure protection is currently in place. No structures have been lost in the communities of Foresta, El Portal, or Yosemite West. Earlier this week, fire crossed the Wawona Road, following the Indian Creek drainage. This fire has crossed Glacier Point Road, forced firefighters to shelter in place at Badger Pass. To learn more about current fire progression, visit https://inciweb.nwcg.gov/incident/map/5927
The following areas remain closed:
Yosemite Valley, El Portal Road, Wawona Road, Big Oak Flat Road, Glacier Point, the Mariposa Grove of Giant Sequoias, the Merced Grove of Giant Sequoias, Wawona Campground, Crane Flat Campground, Tamarack Campground, and several other sections of the Park. Please visit www.nps.gov/yose for the most up to date information.
A large portion of Yosemite National Park remains open. Tioga Road from Tioga Pass to White Wolf is open to all visitors and vehicles. Most of the trails and campgrounds along this route, including the Tuolumne Meadows Campground are open. Visitor services along Tioga Road, including the High Sierra Camps and the Tuolumne Meadows Store are open.
The Gateway communities of Sonora, Groveland, Mariposa, Oakhurst, and Lee Vining are great places to recreate and offer a wide variety of opportunities. Please contact the local visitor centers to learn about recreational opportunities in the Gateway communities.
Since the Ferguson Fire began on Friday, July 13, 2018 park visitors, employees, local businesses and communities have all been affected. We realize this has been a difficult time for all involved. Yosemite National Park is committed to supporting our Gateway communities and we will continue to work closely with all of our stakeholders to work through this emergency.
For updated 24-hour road and weather conditions for Yosemite National Park, please call 209-372-0200, press 1 and press 1 again. Updated information is also available on the park's website at www.nps.gov/yose and on the Yosemite National Park Facebook page.
For the latest information on the Ferguson Fire, visit https://inciweb.nwcg.gov/incident/5927/.
For updated maps of the Ferguson Fire, visit https://inciweb.nwcg.gov/incident/maps/5927/.