National Park Service news release
Yosemite National Park is experiencing high fire danger, along with continued hot and dry weather patterns. Due to the current and predicted fire conditions and fire behavior, the Superintendent of Yosemite National Park will be implementing Stage 1 fire restrictions until further notice is given.
[pdf-embedder url="http://sierrawave.net/wp-content/uploads/2018/07/FERGUSON-FIRE-UPDATE-7.26.pdf" title="FERGUSON FIRE UPDATE 7.26″]
By order of the Superintendent of Yosemite National Park and under authority of Title 36, Code of Federal Regulations, Section 2.13(c):
No building, maintaining, attending or using a fire, campfire, or cooking fire (including charcoal fires) within Yosemite National Park below 6,000 feet in elevation. "Sierra" (twig) stoves are not permitted.  Portable stoves using pressurized gas, liquid fuel orpropane are permitted, as are alcohol stoves (with and without a shutoff valve) including alcohol tablet/cube stoves.
No smoking below 6,000 feet except within an enclosed vehicle, a campground or picnic area where wood and charcoal fires are allowed or in a designated smoking area.  All public buildings, public areas of Concession buildings (including restrooms), other areas as posted and within 25 feet of any non-single family residential building remain closed to smoking at all times.
Campfires and cooking fires may still be used in designated campgrounds, picnic areas and residential areas in developed portions of the park in accordance with park regulations.
Designated Campgrounds and Picnic Areas: Upper Pines, Lower Pines, North Pines, Yellow Pines, Camp 4, Wawona, Bridalveil Creek, Hodgdon Meadow, Crane Flat, Tamarack Flat, White Wolf, Yosemite Creek, Porcupine Flat, Tuolumne Meadows., Lembert Dome, Tenaya Lake, Yosemite Creek, Wawona, Mariposa Grove, Glacier Point, Cascade, El Capitan, Cathedral Beach, Sentinel Beach, Swinging Bridge, Housekeeping Camp, Church Bowl, and Lower Yosemite Falls.
There are no administrative exemptions to this order.  Notice of closure will be posted and areas will be monitored to ensure compliance.   This designation will remain in place until rescinded.
###
Increased Congestion in Sequoia and Kings Canyon National Parks
SEQUOIA AND KINGS CANYON NATIONAL PARKS, Calif. July 25, 2018 – Sequoia and Kings Canyon National Parks are experiencing much higher visitation than is typical during the summer peak season due to fire activity and several area closures in Yosemite National Park.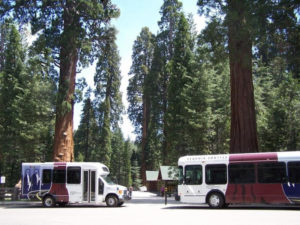 Commercial tour bus operators are discouraged from visiting at this time due to limited bus parking and congestion.
Campgrounds and lodging are full, including first-come first-serve campsites. For campground reservations visit www.recreation.gov. For lodging information visit www.visitsequoia.com.
Visitors can expect to see smoke from the Ferguson Fire in the Sierra National Forest north of the parks, as well as the Horse Creek Fire in the Mineral King area of the parks. For the latest information on the Ferguson Fire visit https://inciweb.nwcg.gov/incident/5927/. For the latest information on the Horse Creek Fire visit https://inciweb.nwcg.gov/incident/5984/.
Air quality is expected to be unhealthy for all, in all areas of the parks. For air quality information visit go.nps.gov/sekiair.
When visiting the parks, there are a few helpful tips to keep in mind:
Parking in the park is limited, and roads are congested. Pack your patience, some snacks, and drive slowly and safely.
Triple digit temperatures are common in the Foothills, and it is critical to bring plenty of liquids to stay hydrated.
Purchasing your entrance pass online ahead of time will save time at the entrance gate. Visit www.yourpassnow.com.
Taking the Sequoia Shuttle from Visalia or Three Rivers means you don't have to worry about parking, and you can enjoy the scenery along the way. Visit www.sequoiashuttle.com.
Road construction delays are up to an hour Monday through Friday when driving up to the Giant Forest from Three Rivers. There is also a full road closure Monday through Thursday nights from 8pm – 6am, with one pass-through at 8pm and one at 11:30pm. Vehicles over 22 feet are prohibited in this area.
For a full delay schedule and more information visit www.nps.gov/seki/planyourvisit/road-construction.htm.
When exploring the Giant Forest, plan to use the shuttle system in place that will get you to our most popular destinations. The shuttle is free for all visitors.
If you're planning to visit Crystal Cave, purchase your tickets online at www.sequoiaparksconservancy.org at least two days in advance. If you missed the cut off, plan on arriving early to the Foothills or Lodgepole Visitor Centers, day-of tickets are very limited.
Increased bear activity this year means food storage is extremely important. Keep all food and scented items in your trunk, and use food storage boxes when available. This applies even to the busiest areas and parking lots.
For current conditions, trip planning, and more information visit our website www.nps.gov/seki.