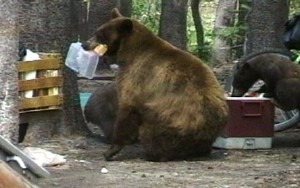 The severe drought this year means little food for creatures.  Bears, desperate for something to eat, are causing problems in Mammoth Lakes.  Both the MLPD and the US Forest Service issued press releases about the situation and the important ways to deal with bears.
** NEWS  RELEASE ** MAMMOTH LAKES POLICE DEPARTMENT
THE BEARS ARE MISBEHAVING IN MAMMOTH LAKES
The drought conditions in the Eastern Sierras have resulted in a reduction in natural food for bears.  As a result, the bears are beginning to behave more like they typically do in September or October.  As their natural food sources dwindle, they become more reliant on food from people.
Earlier in the summer, the problem was primarily in the Lakes Basin where one bear in particular became proficient at stealing anglers' fish and raiding unsecured ice chests and back packs.  In the past few weeks, the problem has moved into town.  Wildlife Specialist Steve Searles and MLPD officers have been handling multiple bear calls each day.  On August 7, they responded to a residence where a bear had spent several hours in a parked car doing considerable damage.  Several other cars containing food have also been broken into.
As always, one of the biggest problems is unsecured dumpsters.  It is vitally important for businesses, residents, and visitors to always properly secure dumpsters.  All food, ice chests, and sweet smelling products like shampoo should never be left outdoors or in a car overnight.  Bears are highly intelligent animals and when they see an ice chest they know it may contain food.  So if a bear sees an ice chest in the back of a car or truck, they will figure out a way to get into the ice chest, and it's usually an expensive repair.
The best way of preventing bears from becoming dependent on humans for food is to follow these common sense rules:
Never leave food out for bears or other wild animals
Securely store food and fragrant items such as shampoo and deodorant in an airtight container.  When camping, use a bear-proof box
Don't leave food, even in a cooler, in a car, tent, or other unsecure location
Don't leave pet food outdoors or use a bird feeder.  Bears love bird seed!
Always deposit trash in a bear proof trash can or dumpster
Keep your car locked and your garage door closed
Close and lock ground floor windows when no one is home
Remember a fed bear is a dead bear.  Bears that have been conditioned to rely on humans for food become unmanageable and unfortunately, sometimes have to be destroyed.
Please help to keep our bears healthy.  Enjoy their presence, but do not encourage behavior which is harmful to them.  DON'T FEED OUR BEARS!
For more information on co-existing with wildlife or to report a bear problem, contact the Town's Wildlife Specialist Steve Searles at (760) 937-BEAR.
(Press Release)  FOREST SERVICE ASKING FOR COOPERATION 
                                    TO HELP KEEP FOOD FROM BEARS 
BISHOP, Calif., Aug. 8, 2012 –    The Eastern Sierra region of California, along with much of the western United States, is suffering from serious drought conditions. As a result of the lack of water and moisture, plants and shrubs are less productive and local wildlife are finding a shortage of natural forage and food.
The black bear populations of the Sierra Nevada rely upon plants and shrubs to survive. A shortage of native food sources for these animals is forcing bears to seek alternative food sources, including human food and trash.
The US Forest Service is asking that all forest users give careful consideration to how they are storing their food and trash. Food storage lockers, often referred to as bear boxes, are in place in campgrounds and trailheads where there are known bear issues. All food and items with scent (such as toothpaste, shampoo, etc.) should be placed in these storage containers when not in use, and the doors securely locked. Campers and picnickers should NEVER leave their food unattended, even for a minute. If you must walk away from your picnic table or cooler, Forest Service regulation requires that you secure food before leaving.
All trash must be disposed of properly. Most locations in bear country have "bear proof" dumpsters that lock if used properly. When disposing of your trash in these dumpsters, please make sure the dumpster is locked and secure after you deposit your trash.
Backcountry and wilderness visitors must store their food properly. In some areas, bear canisters or storage devices are required. Counter balancing food in trees is not 100% effective and the use of food storage devices is encouraged throughout the backcountry and wilderness.
In addition to being subject to fines, allowing bears to obtain human food can be fatal for an animal. Bears can become habituated to human food and can become aggressive in their pursuit of food. A habituated bear may become a human safety concern and have to be destroyed. Please do not make the mistake of feeding the bears and contributing to their potential destruction.
The Forest Service is asking the public to help keep the wildlife wild. Do not feed bears. Always know where your food is and ensure that it is safely locked when you are not immediately near it. For more information, please call or visit any Forest Service visitor center or Ranger Station, including the Mono Basin Scenic Area Visitor Center in Lee Vining (760-647-3044), the Mammoth Lakes Welcome Center (760-924-5500), the White Mountain Ranger Station in Bishop (760-873-2500) or the InterAgency Visitor Center in Lone Pine (760-876-6222.)
-FS-