Note: This event happened late last month – please see the Sierra Wave Media video at the end of the story.
By Andy Geisel
They came from nearby Camp Pendleton, Wounded Warrior Battalion West – Balboa, Agoura Hills, Rialto and Fontana in California, and as far away as Georgia, Washington, Florida, Virginia and even the Philippines. Disabled Sports Eastern Sierra brought two-dozen Wounded Warriors from all parts of the armed services (Marines, Air Force, Navy, Army and Coast Guard), their families and military staff to Mammoth Mountain as part of its 9th annual Operation Mountain Freedom winter camp, Jan. 26-30.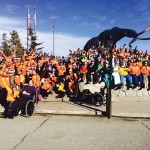 Warriors from various theaters of war were in attendance, including several from Vietnam and Korea.
Mammoth Mountain Ski Area again served as the event's chief sponsor, providing the Mountainside Conference Center as base of operations, lunches and all ski/snowboard gear, as well as lift/trail passes for all the warriors and guests. Local sponsors this year included Mammoth Lakes Fire Department, the Curry family and friends, Burgers Restaurant, Westin Monache Resort, Good Life Café, Sue Ebersold and Eastern Sierra Transit Authority.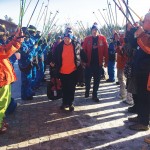 Monday was check in at the Westin Monache Resort, which generously provided all their lodging for the week, and the annual barbecue welcome dinner at Mammoth Lakes Fire Station #1, where Capt. Frank Frievalt and crew made the warriors feel right at home. On Tuesday, the warriors and company met up with their DSES Volunteer Instructors at MMSA's Main Lodge, and then took to the slopes for a day of on-snow instruction, from DSES's awesome volunteer instructors, followed by dinner at the home of Roger and Karen Curry.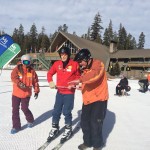 Wednesday started with Nordic skiing at Tamarack Lodge, then more on-snow instruction back at MMSA's Main Lodge. Ed Hurley and Burgers Restaurant played host to the warriors for dinner, another longstanding OMF custom.
Thursday's special luncheon is arguably the week's highlight, and this year's was no different. With the room decorated in red, white and blue by DSES Volunteer Amy Ambellan and her team, the Marine Corp color guard, courtesy of the Marine Warfare Training Center at nearby Pickel Meadows, started off lunch on a solidly patriotic note.
Mammoth Hospital CEO Gary Myers served as MC, and introduced Mammoth Mountain Ski Area COO Greg Dallas, who described MMSA's relationship with DSES Executive Director Kathy Copeland and the warriors as part of a larger family. "We make a significant investment in DSES each year," he noted, "and dollar for dollar it's one of our best investments, since it goes right into those people who need it." Dallas reiterated Mammoth Mountain's pledge that skiing for alumni Wounded Warriors and their families is free at MMSA.
Dallas introduced several of the military VIPs, who are Operation Mountain Freedom supporters, including Col. Scott Leonard, USMC, commander at Pickel Meadows, Col. Willy Buhl, USMC, Lt. General TS Jones, USMC (ret.), and Brigadier General Dan Yoo, USMC. Also attending, in addition to the DSES Board of Directors, and other local dignitaries and officials, was Jan Leja, representing the office of U.S. Congressman Paul Cook (R-CA, 8th District).
During lunch, Copeland was presented with a $20,000 donation toward the National Wounded Warrior Center on behalf of members of 6-67 Monument, an organization honoring the memories of 50 classmates from Marine Corps Basic Class 6-67 from 1967, who made the ultimate sacrifice. John Propis and Jack Wells from 6-67 Monument were on hand to present the check, along with fellow 6-67 classmate and longtime DSES supporter Steve Colwell, who introduced Copeland to Propis and Wells.
In his remarks, Gen. Yoo praised the "leadership provided by Kathy [Copeland], Greg [Dallas]," and called Disabled Sports Eastern Sierra's planned National Wounded Warrior Center a "great endeavor."
Yoo also invoked the memory of one of DSES's earliest founders, Terry Smutney, who was himself a veteran of the first Gulf War, and the inspiration for Copeland's bringing Wounded Warriors into the DSES family. "One thing we've learned is that the physical body recovers," Yoo said, "but we have to address the mental challenges of the future. You have a good thing going here. Not all NPOs are the same. Your new name should be 'mountain healers.'"
Yoo's next duty was to introduce Thursday's keynote speaker, General Jones. Copeland, he said, has always been referred to as "the Energizer bunny," but then quipped, "She has met her match in TS Jones." Jones, who has logged 36 years of active duty service, also helped the Marine Corps with streamlining and standardizing its training methods, and has since gone on to establish his own non-profit Outdoor Odyssey Leadership Academy.
Jones stirred the room with a rousing, inspirational address that stressed how we handle life's "defining" moments. Finding balance, he said, is a problem that plagues many people. "I thought I was pretty well balanced … I had a chip on both my shoulders," Jones remarked about his younger, more rebellious years. "College changed my life. I made a commitment, joined the Marine Corps, at first for just two years. I liked the idea of taking care of people." Jones also emphasized accountability and planning. "If I can do this, then I can do anything is true, but only if you have a plan."
The "m" in Marines, he said, stands for mission: "What am I going to do and how am I going to do it?" He followed that with the other letters in Marines, talking about the importance of accountability, responsibility, nourishment, energy and synergy.
Jones's plan is to help Copeland develop and build the National Wounded Warrior Center as a member of its advisory board. "I had a 15 minute phone call with Kathy that lasted two and a half hours," he joked. Healing, wellness, energy and creativity, he added, are part of what makes DSES successful, and will make the NWWC a success. "This week was another shining example of challenges and hope through recreational activities that address the physical, cognitive and emotional needs of these men and women."
Copeland concluded the luncheon thanking the "community of friends" who make this event possible. "Wounded Warriors are dear to our heart," she said. "This is our time to fight for them. We need to do more, kick-start them, give them the knowledge that they can do this. Mammoth Lakes has embraced [the NWWC], with offers of internships, job opportunities. This isn't just me; it's the community that's behind this. It will be a safe haven where they can learn, heal and thrive. We need to get the NWWC built."
She also recognized Barry Zimmerman, who will raise funds and awareness for the NWWC when he runs the Boston Marathon this spring, sporting a "NWWC Run For Heroes" running shirt!
Thursday night's farewell dinner at the Good Life Café provided more emotional moments, with several warriors, who say they never speak up much, vocally stating their thanks for what Operation Mountain Freedom brought to their lives.
In addition to the camp itself, Fox News Channel recorded interviews and other clips of the warriors in action for a segment that aired nationally as part of The Kelly File with Megyn Kelly on Friday evening. Mammoth Lakes local Trace Gallagher, who is now a major anchor at FNC, narrated the segment.
The next Wounded Warriors camp is the Operation High Altitude summer camp, June 1-5. For more information, call 760.934.0791 and log on to www.disabledsportseasternsierra.org. For more information on the National Wounded Warrior Center, log on to www.woundedwarriorsmammoth.org.
###