Wounded servicemen and servicewomen face a great many challenges on their return to the United States from deployment overseas in armed conflicts that seemingly have no end. Many suffer severe mental and debilitating physical injuries. There is also the trauma and difficulties faced by their families.
In recognition of their service, sacrifice, and in support of the families, the local American Legion Post 118 partnered with Carl's Jr. to help raise funds to support the local chapter of the Wounded Warriors Project in sponsoring the upcoming Disabled Sports Eastern Sierra winter event to be held in Mammoth Lakes from January 27-31, 2014.
Carl's Jr. is donating 25% of each meal purchased on Tuesday, October 22, and Wednesday, October 23 to Wounded Warriors to all those that bring in an official flyer. The flyers were distributed around town at various government agencies and private businesses, and are available at the Chamber of Commerce and Visitors Center located on Main Street next to Carl's Jr.
American Legionnaires are also on hand on Tuesday and Wednesday to distribute flyers to diners entering the restaurant and assisting with delivering the meal trays to diners at their table.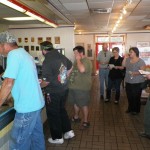 Inside the restaurant there is a large donation jar filled to the brim with cash to assist in the cause as well. Inside was a long line of diners ordering meals while outside there was a long line of cars waiting in the drive-thru lane.
For more information, to donate or to volunteer, please contact the DSES at (760) 934-0791 or visit their website at www.disabledsportseasternsierra.org.
– Charles James