Press release
Bishop – The California Department of Transportation (Caltrans) will hold its annual Workers' Memorial Ceremony on Thursday, April 28th at 10:00 a.m. at the Bishop Caltrans District 9 Office.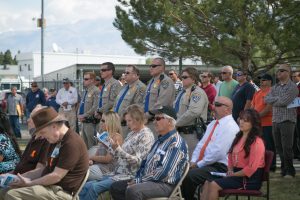 This ceremony will be held in conjunction with Caltrans Safety Awareness Week.  The event is open to the public, and Caltrans welcomes everyone to attend.  Speakers will include Brent Green – Caltrans District 9 Director, Captain Tim Noyes – California Highway Patrol, Joe Pecsi – City of Bishop Major Pro Tem, and Dave Batchelder – Caltrans D9 Maintenance Supervisor for the Desert Region.  The McGee Creek Maintenance Station crew has the honor of being the Caltrans District 9 Color Guard.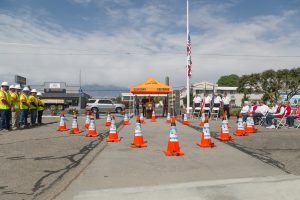 The Caltrans Workers Memorial is a time to remember employees who have lost their lives while building, maintaining, and operating California's world-class transportation system.  Since 1921, a total of 184 Caltrans workers have died in the line of duty, most recently District 11's Oscar Vargas, who died this past year.
"Thousands of people report to work every day facing the hazards of errant/inattentive drivers while working on busy highways, roadways and bridges across California," said Caltrans District 9 Director Brent Green. "This memorial is a solemn reminder to Caltrans and the public that we each must do our part to improve safety in work zones by slowing down, eliminating distractions such as talking on the phone or texting and dedicating ALL attention to the roadway."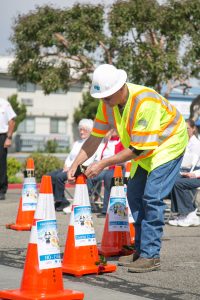 Highway construction and maintenance work is one of the most hazardous occupations in the United States. Caltrans workers already make continuous efforts to maximize safety by participating in training, updating equipment, alerting motorists in advance of highway work zones, wearing reflective clothing, and providing reflective markings on vehicles.
In addition to the hazards workers face, an estimated 85 to 90 percent of people, who die in highway work zones, are drivers and passengers.
Following the success of California's "Slow for the Cone Zone" public awareness campaign, Caltrans launched the "Be Work Zone Alert" campaign in 2014. The campaign features the children of Caltrans workers as spokespeople, underscoring the tragic personal impact caused by highway worker death or injury. The Caltrans Be Work Zone Alert public service announcement can be viewed at https://youtu.be/qN24M5lGNmE