A measure to allow Off Highway Vehicles to drive into the towns of Inyo County made it through the State Legislature to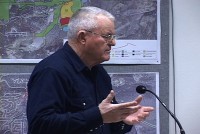 Governor Schwarzeneggar's desk where he failed to sign it. Those behind the bill will try again with Governor Brown.
Dick Noles of Bishop had worked with Caltrans, the CHP and Sheriff's Department. He said that they all agreed on the need for a trail system with access to stores and amenities.
Noles said after the Governor failed to sign the bill allowing those trails into towns, Inyo Assemblywoman Connie Conway said she would go back after it.
Meanwhile, Noles, undaunted by the setback, has gone to work to identify routes to follow in and out of town to OHV routes or campgrounds.
Noles, who recently updated the Bishop City Council on this issue, said he and others want to tie things together – the Millpond, campgrounds, Pleasant Valley. Tie-ins would also be created in the Lone Pine, Independence and Big Pine areas.
Noles said many other states are doing this.