Press release
Cute Guide Dog puppies and shopping – what could be more fun? On Saturday, November 14 from 9 a.m. to 1 p.m. the community is invited to shop for a good cause, Guide Dogs for the Blind, at the Bow Wow Boutique.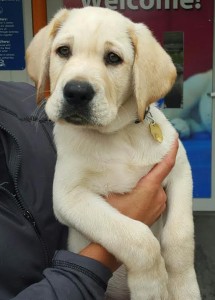 The Bow Wow Boutique is one stop shopping from local direct sales merchants, with a percentage of all sales being donated to Guide Dogs for the Blind and Eastern Sierra Guide Puppies, the local puppy raising club.
Featured at the Bow Wow Boutique will be useful and fun kitchen items from The Pampered Chef, gorgeous bling from Premier Designs Jewelry, stylish and comfortable women's fashions and shapewear from Ruby Ribbon, and home fragrance products from Gold Canyon Candles. Also available will be health and wellness products from Juice Plus, makeup and skin care products from May Kay and bags and other accessories from Thirty One.
Just in time for Christmas and the holiday season, the Bow Wow Boutique promises a fun shopping experience, complete with cute puppies, complimentary refreshments and a silent auction.
Local Guide Dog puppies in training Pilsner, Eliza, Remus and Fuller will be on hand to welcome shoppers. Information on the local puppy raising club will also be available.
The Bow Wow Boutique will be in held in the fellowship at First Presbyterian Church, 585 N. Main Street (across from McDonalds) in Bishop. For more information contact Betsy Thomsen at 760-920-8891 or [email protected] More information on Guide Dogs for the Blind can be found at www.guidedogs.com