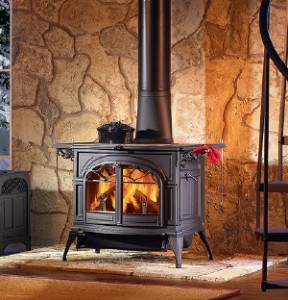 Earlier this year, the Air Pollution Control District successfully negotiated with the Department of Water and Power to secure $5.6 million from Los Angeles to pay for clean air projects to offset some of the serious dust pollution from the Owens Dry Lake.  APCD also continues with dry lake clean-up enforcement against DWP, and one of the clean air projects is now underway in Southern Inyo.
Inyo Mono Advocates for Community Action, IMACA, sent out mailers to residents in Independence, Lone Pine, Keeler, Olancha and Cartago to offer replacement of old wood stoves and low efficiency fireplaces that do not meet federal EPA standards. IMACA received $500,000 from APCD for this and other programs.
IMACA's pilot Home Heating Emissions Reduction Program allows qualifying participants to select their replacement from EPA-certified wood or pellet stoves, inserts or propane or kerosene heaters.  Officials said that most existing wood stoves and fireplace inserts manufactured before 1991 qualify for replacement.
There is no income level required for this program – just the outdated heating sources.  Installations and other energy saving services, including home weatherization are provided by trained IMACA staff.  Call IMACA as soon as possible for application details. Call 760-873-8557, extension 24.