Bishop Police Department news release
Tuesday, at about 2:30 PM, BPD received a call of a purse theft. The caller had left her purse unattended while shopping at a local grocery store. The purse contained a large amount of cash inside a bank envelope. BPD
had observed a known, local, female probationer in the area near the time of the theft call. A subsequent search of the probationer's residence led to the discovery of the victim's cash and other theft related items.
Danielle Allen, 34 years old, was arrested and taken to the Inyo County Jail charged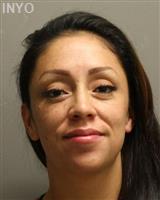 with 487(a) PC Grand Theft, 475(a) PC attempt to pass stolen check, and 1203.2 PC violation of probation. She was also linked to other thefts in the area. Consequently, more charges are likely.
During the course of the probation search, BPD encountered Arielle Stone, 26 years old, who was in
Arielle Faye Stonepossession of a prohibited knife. She was arrested on a parole violation and transported to the jail by Inyo County Sheriff's Office personnel, who assisted BPD during the probation search.