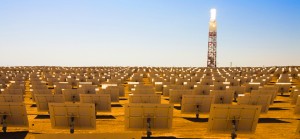 While Inyo County remains in sharp disagreement with BrightSource Energy over the cost to the County of their Hidden Hills Solar project near Death Valley, BrightSource has other business issues that have made news. And, both parties now await a decision from the California Energy Commission on the Hidden Hills project permit. The CEC staff has found that the project would have problematic impacts.
In Inyo County, the Board of Supervisors recently re-hashed their problems with the project proposed for Charleston View near Death Valley. Officials continue to resist the project since their consultants and staff say the project will cost Inyo County as much as $90 million in impacts – mostly law enforcement and road repairs from major traffic and 2300 employees. Inyo officials also have a problem with the fact that BrightSource has failed to submit a complete General Plan Amendment application that is needed for their project.
However, the California Energy Commission has the final say. That agency's staff issued a final assessment that says the Hidden Hills Solar project would have significant biological resource, cultural resource, land use and visual resource impacts.
The summary of the Energy Commission staff assessment says that the Hidden Hills Solar Electric Generating System "does not comply with all applicable laws, ordinances, regulations and standards and will have significant impacts to the environment after the implementation of all feasible mitigation." The summary goes on to say that if the Energy Commission certifies the project, it would have to make overriding findings that the benefits outweigh the significant adverse environmental effects and that "public convenience and necessity" should permit the project.
Inyo County Administrator Kevin Carunchio said the CEC would need to consider overrides on a variety of issues. Carunchio said, "Our hope is that the CEC will take a very close look at these overrides, particularly those related to local agencies' ordinances, regulations and statutes and the related impacts that could result from any override." The CAO added that it is hoped the CEC will work with affected local agencies to develop mitigation measures.
In other news about BrightSource Energy, the Saturday Los Angeles Times reported that Southern California Edison and BrightSource "mutually terminated" a power purchase agreement for two projects near Blythe, California. The article said that BrightSource has asked the CEC to put those projects on hold.