So far, this year, one might call the season the Winter of Wind. A good amount of snow has fallen, but the hallmark of the weather patterns seems to point to wind.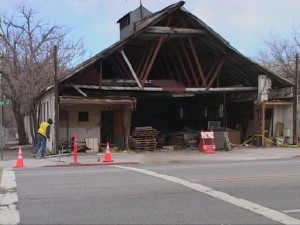 In early January major winds mixed with rain that drove water into homes and businesses. It was high wind that destroyed visibility in January that led to the extended closure of Highway 395. Motorists were stranded when the high winds actually caused a semi-truck to jackknife right outside Mammoth Lakes.
Other highway closures followed in January and this month with the combination of snow and wind. A couple of weeks ago wind ripped up roofing, pushed over trees and phone poles.
Over the week-end, extremely high winds howled through parts of the Eastern Sierra. In Independence the brutal Saturday night winds destroyed the front of an old DWP warehouse in Independence.
Wind ripped the front right off, leaving the building interior exposed from the rafters down to the floor. That was the worst damage in the small town, although large tree limbs could be seen in many yards and countless small limbs all over town.
The real drama over this past week-end unfolded in Mono County where heavy snows fell and again caused closure of Highway 395 between Mammoth Lakes and Bridgeport. All re-opened Monday.