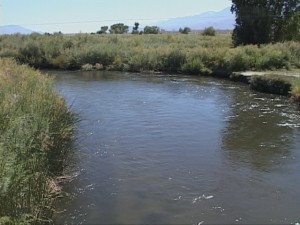 Fish aren't just for summer. To prove that, Inyo County and the Bishop Chamber of Commerce will promote the New Winter Classic Trout Derby, a three-month long contest from February 1st through April 30th in Pleasant Valley Reservoir and the Lower Owens River.
Chamber Director Tawni Thomson said 30 tagged Alpers Trout will go into the Pleasant Valley Reservoir and Lower Owens River south of Highway 6. The tags match prizes amounts of $30 to $300. Along with the tagged fish, the waters will be well stocked with additional Alpers Trout to insure great fishing conditions.
Everyone who enters the contest will also be entered into a raffle with more prizes. Even if you don't catch a tagged fish, you could still win. Registration cost $5. Kinds under 12, free. Sign up at Bishop Chamber or local tackle shops, including Culvers and Macs in Bishop and Hi Country Market in Big Pine.
This new trout derby is kind of ala Blake Jones Trout Derby every March. Inyo County offered grant money to the Chamber on this. They will spend $3,000 worth of Alpers Trout and $2,500 in cash prizes.