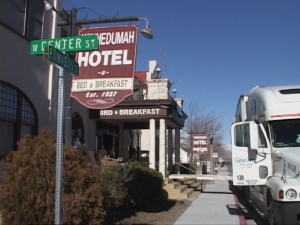 One more piece of misfortune for the small town of Independence – the December rains that hit southern Inyo pounded the towns for two days straight and then freezing temperatures followed. It all added up to major damage at the historic Winnedumah Hotel/ Bed and Breakfast.
Workers on scene at the hotel said that water seriously damaged the roof. They are now hauling out boxed up belongings and will pull out the damaged roof material.
Equipment can be seen sucking out water and drying out the interior of the historic building, which has been for sale for a number of months.
Coldwell Banker is handling the property. Realtor Cindy Freeman said there are some serious buyers interested in the property. She said it does need re-hab but would make a remarkable destination spot as an historical show place.
We have placed calls to owner Frank Montoya but have not spoken with him yet about the future of the Bed and Breakfast.