As wind picked up Tuesday, the fierce speed knocked over a big rig north of Crowley and a motorcycle.
Those incidents prompted agency meetings and a decision to prohibit high profile vehicles on 395.
The CHP and Caltrans put a hard closure in at Bishop to the Nevada border. CHP officers and Caltrans set up a stop northbound in Bishop. The closure and prohibition was for high profile vehicles only.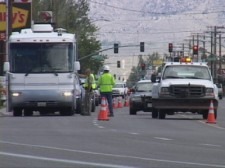 A hard closure went into effect at the Topaz bug station for southbound vehicles.
CHP was diverting traffic to 95 and 6 with a high wind advisory.
Call 1-800-GAS-ROAD for latest conditions.