Sunday's high winds caused problems in the Eastern Sierra besides the downright nasty weather conditions, the high winds buffeted high profile vehicles and whipped up dust on the Owens Dry Lake.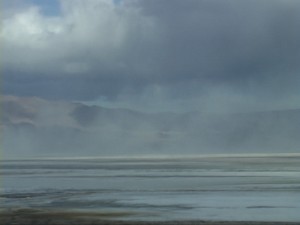 Large columns of dust could be seen form the highway as the afternoon winds drove through the Owens Valley. The dustiest part of the dry lake was the south end near Keeler.
The rest of the lake bed looked relatively quiet with some blowing dust on the east side.
Recently, the Great Basin Air Pollution Control District Board did okay a new plan for DWP to clean up the rest of the dust. The idea is for federal air quality standards to be met by the year 2012. The new plan requires DWP to expand dust control measures to additional areas at Owens Lake to attain national air quality standards.
It looks like right now the most polluted area lies near where people live – the community of Keeler sits right on the south shore of the Owens Dry Lake. In Keeler the citizenry manages to keep something of a sense of humor with the perennial sign of Keeler Beach on an old surf board that says it's a beach courtesy of the LADWP.