Wild weather caused a change of plans as Bishop Elementary School students celebrated the end of the school year in the Bishop City Park.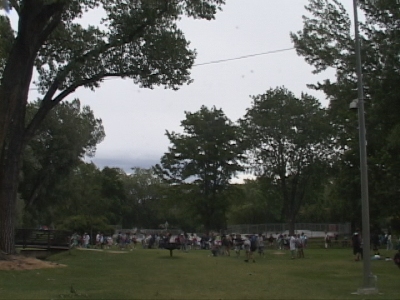 Normally the weather in June would be perfect for the end of the year celebration in the park, but high winds on Wednesday started to break branches of the large cottonwood trees at the park. At one point there was talk of evacuating the students, and the police were called to assist.
Branches had fallen off a few trees near the pool, but the students appeared to be in high spirits as the adults conferred about whether or not to call the event off. After touring the park, Community Services Director Keith Caldwell decided that there might be risk to the students if they kept playing under the trees. Rather then let the wind rain on the parade, Caldwell suggested moving the end of the celebration to the baseball field, which is not under any trees.
No one panicked, the decision was made. One child reportedly complained of being cold, but no one was hurt.