Approximately 10 hours after newly-sworn in President Barack Obama took his oath and proclaimed that the United States would move forward in "harnessing the sun and the wind" in the country's future, the Inyo National Forest held a meeting to discuss bringing wind power to Mono County.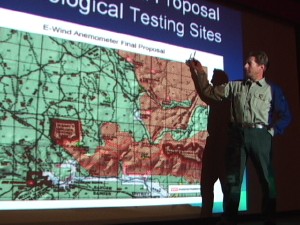 The project is being proposed by EWindfarm, Inc. and is completely separate from the wind farm that was proposed in Benton in Mono County's recent history. At this time, the Forest Service wants to figure out if they will even accept a proposal from EWindfarm for wind energy.
"We simply want to begin the discussion on wind energy here tonight," said Jon Regelbrugge, District Ranger for the Mammoth and Mono Lake Ranger Districts. "There is no federal action to discuss at this time. We just want to get the discussion going early."
Regelbrugge gave a brief presentation on Forest Service protocol for a project like this, and explained that if the Forest Service decides to accept a proposal from EWindfarm it would have to go through a two-level screening criteria, plus some form of environmental assessment.
If the proposal, which EWindfarm gave to the Forest Service a year ago, is accepted as formal, the first step will be for EWindfarm to set up meteorological towers called anemometers for site testing and feasibility. Three sites have been chosen for the anemometers. They are Sagehen Peak, Pilot Springs, and Bald Mountain Lookout. A fourth site at Ford Spring was ruled out because it is within a wilderness area.
Andy Zalay, an aeronautical and mechanical engineer from EWindfarm explained that the anemometers would be approximately 197 feet tall. If the tests were to go well and a wind farm were put in at any one of the sites, Zalay would hope for a "reasonable-sized project of about 33 turbines." Each turbine's footprint is about 1.5 acres, and the height of the actual turbine is over 300 feet.
The Forest Service will determine whether or not to accept the proposal and move forward with the process in the very near future, according to Regelbrugge.