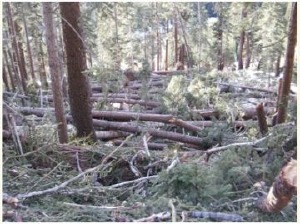 Work to Begin for Reds Meadow Valley Wind-Fallen Tree Removal Project  (Press Release)
The Inyo National Forest, Mammoth Ranger District is announcing the beginning of the wind-fallen tree removal work in Reds Meadow Valley, for hazardous fuels reduction. The tree removal work will take place on approximately 220 acres and will be accomplished under a contract known as the Red Devil Stewardship Sale.
For safety, visitors to the Reds Meadow Valley are urged to not enter areas where tree removal work is in progress and to drive slowly on the Reds Meadow Road because of increased traffic associated with tree removal activities. Visitors should expect short traffic delays as a result of tree removal work. To facilitate safety, traffic may be intermittently stopped for 15-20 minutes at the Minaret Vista Entrance Station while loaded log trucks travel the single lane portion of Reds Meadow Road. The log truck hauling and traffic delays may be most focused during the early morning hours, 6:00 to 10:00 a.m. The time of day when traffic delays occur may change as the contractor progresses with tree removal work. Other traffic controls may also be encountered in Reds Meadow Valley.
In preparation for tree removal work, the contractor will construct a half mile of temporary roads to access treatment areas. The contractor will use heavy equipment to remove trees from treatment areas, including a dozer, heel boom loaders, and a helicopter. Trees will be hauled from the Reds Meadow Valley on large log trucks.
Contractors are expected to begin mobilizing for this work as soon as Monday, September 10.  Work will continue through the fall, likely into the end of October or early November, depending on weather.  Additional information may be obtained from the project Contracting Officer, Scott Kusumoto, via email at [email protected] or 760-924-5522.