Jack Roderick Williams, Sr. walked the star trail on Monday, March 14, 2016 peacefully at his home surrounded by family.  He was 68 years old.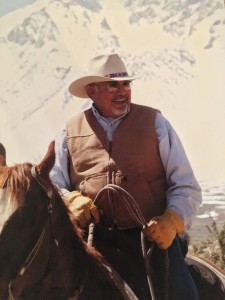 Jack was born to John and Velma Williams on November 11, 1947 in Bishop, California.  Jack was the second of eight (8) children.  Jack was an honored member of the Bishop Paiute Tribe and was very proud of his Paiute and Pima Indian heritage; he was adamant in defending the tribe and his American Indian culture in any arena.  He often bragged that he was the youngest Chairman of the Bishop Tribe when he served on the Council in the 1970's and he was an official on the California Tribal Chairman's Association; he served on the Bishop Paiute Tribe TERO Commission and various other tribal committees; he was a member of the Owens Valley Indian Water Commission from 1995 to 2006; and he volunteered for many activities on the Reservation, including building the arch for the Sunland Cemetery.  He was always available to play music for any event.
Jack attended the Bishop School systems from kindergarten to early high school and then finished high school in Oakland, California.  Jack often said he was "farmed out" – referring to his adolescent years when he was sent to live with several relatives.  He stayed with Aunt Lucille Parsons in Lancaster, with Aunt Marion McDonald in Oakland and of course, with Grandma Anona in Big Pine, where he met many lifelong friends.
He also spent time with the old grandparents (Jim and Sarah Hill) in Fish Springs, he said to be a companion to LT (Lloyd Thomas).  He always said that living with relatives and in different towns contributed to him having a more enriched life.  After high school Jack went on BIA Relocation to Oakland where he received his education in design arts – to become a painter.  During this period in Oakland Jack had the time of his life – he had money from good painting jobs and of course, had many friends; not to mention his relatives who lived in the bay area – Janet Yandell and Delbert Durant.
Jack moved back to Bishop, got reacquainted with and married Earleen Hess in 1969; Jack was drafted into the Army and was honorably discharged.  They moved to Long Beach to attend Long Beach State with their two (2) small children, Carmen and Jackie (Buffalo).  Jack and Earleen returned to Bishop after two (2) years in Long Beach and in 1973 started their life together in their new HUD home on Jack's beloved Indian Reservation.
One of Jack's greatest loves of his life was his music.  He was a fantastic singer and songwriter.  His love of music began in high school when he played in a band with his brothers, his cousin Gary Williams and friend John Crowl.  Jack later started the "JW Brothers Band"; the band played together for over 30 years with various band members; he played his music all over the western United States.
Jack worked as a journeyman carpenter (although family members said he was a master carpenter), he was awesome in anything he built and he had a green thumb.  Jack loved the many animals he owned throughout the years, including Sunday Ticket and Blue Moon, his two (2) llamas which he had for over 20 years.  Jack enjoyed life and made the most of it, including his times with the "wood chucks", his "walk abouts" as he called it and he had many, many stories to tell of his experiences playing music all over the western U.S.
Jack is survived by his wife of 48 years, Earleen; his children and their partners: daughters –  Carmen & Deb, Emma & Robert and Ahwahnee Williams; sons – Jack Williams, Jr. & Liz, Jamie and Augie Barlow and his grandchildren  – Rubee Manuelito, Campbell Spoonhunter, Lainey Racine, Isabella Navales, Kristopher Racine, Paiten Williams, Canyon Vega-Williams, Colette Lamb and David Williams.  Jack is also survived by his siblings – Leslie Davis, Jim, Ed and Harry Williams and Violet Cortes; by his aunts Evelyn Hill, Donna Duckey, Lucille Parsons, Dorothy Stewart, Rita Summers and uncle Bud Cyrus; many nieces and nephews, in-laws, cousins and friends.  Those welcoming Jack to heaven are his parents – John and Velma Williams; brothers – Tom and John Williams; grandparents – Emma and Billy Williams and Nat Cyrus and Anona Cyrus-Harvier; nephew – Jerry Davis; aunts – Norma Spratt, Florence Williams, Blanche Shippentower, Hazel Yandell, Katherine Howard, Louise Keller, Marion McDonald and uncles – Wayne Harvier, Billy Williams, Jr., Harold Williams, Harry Williams, Clarence Williams, Alvin Keller, Howard Yandell, Daniel McDonald, Cline Howard, Alex Shippentower and Willard Spratt.
Funeral services for Jack are scheduled for Sunday, March 20, 2016 at 11:00am at the Home Ec Building at the Tri-County Fairgrounds in Bishop.  Graveside services will be held at his beloved Sunland Cemetery and a luncheon will follow at the fairgrounds.