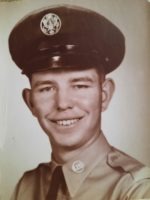 William Louis Beaver was born in Tulare California to Clarence and Margurite Beaver. He attended high school in Porterville California where he played football. He graduated high school in 1950 and married Yvonne Hicks. He enlisted in the US Air Force in 1951 during the Korean conflict and while in the Air Force he taught electrical systems for the B-36 and B-52 bombers. In 1952 he left the Air Force and returned to Porterville where he farmed and ran heavy equipment.
In 1965 he moved his family to Hammil Valley in Mono county to continue farming hay and certified foundation seed garlic. He remained in Hammil Valley the remainder of his life.
William is survived by his wife of 71 years, Yvonne; daughter Beverly Reichert, (Tom), son Cody, (Sherylyn), daughter Becky Franosch, (Urmas), and son, Andy. Seven grandchildren and 11 great grandchildren.
He was a good man, a good farmer, and a good father. We will miss him greatly.
Services for William will be private.