William (Bill) J. Trombley, Jr. formerly of Cohoes NY & Port Orange FL., died peacefully surrounded by his family in Bishop CA on March 20th, 2018. Born on July 23rd, 1922 in Cohoes NY.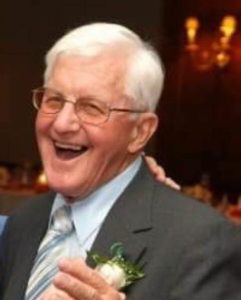 Bill was the son of the late Ceilia & William J Trombley, Sr. He was married to the late Lois Barbazon Trombley and is survived by his loving wife of 47 years Roselois (Tessier-Myers) Trombley. He was predeceased by his son and daughter-in-law William and Judy Trombley and granddaughter Sarah Barber, brothers Gerald, and Raymond Trombley, sisters Anita Trombley, Doris Murray, and Eleanor Feiden.
Bill was a graduate of Keveny Academy in Cohoes. In 1942 he enlisted in the United States Navy. He was Seaman 1/c (FC) V6, serving aboard the USS Augusta, a Northhampton class cruiser his entire tour. While Bill was aboard the Augusta, the ship served as the command headquarters for the D-Day Invasion. It was also used as a Presidential Flagship, carrying President Truman under wartime conditions. After being discharged from the Navy in 1945, he began his career as an electrician, eventually owing his own company, Trombley Electric.
Upon retiring Bill & Ro split their time between "the camp" on the Great Sacandaga Lake and their winter home in Port Orange Florida. He enjoyed playing golf, singing in the choir at Our Lady of Hope Catholic Church, in Port Orange and performing in the talent shows at LaCosta Village. He loved his time in Florida and developed many lasting friendships.
Bill was a talented tradesman who enjoyed helping friends and family with their home improvement projects. He took great joy in the accomplishments of his children and grandchildren, supporting them as they participated in their sports, plays & concerts.
At the heart of Bill's life was his family. His ready smile, happy personality, sense of humor, and his gift for singing a great tune, made him the center of the family gatherings. A lifelong Catholic, Bill was a man of devout and strong faith, which sustained him through the good and difficult times of life.
Bill is also survived by his children: Christine (Michael) Cashin of Albany, Ellen (Sean) Hardy, Clifton Park, James (Marsha) Myers, Arizona, Thomas (Victoria) Myers Texas and Gary (Karilyn) Myers, California. In addition Bill is survived by 15 grandchildren and 19 great-grandchildren.
A memorial will be held in late spring 2018, date TBD. In lieu of flowers, donations can be made to the American Cancer Society.