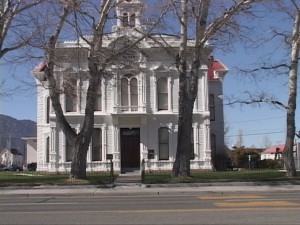 The U.S. Fish and Wildlife Service has kept a public comment period open through November 18th for its proposals to protect Sierra amphibians – frogs and toads. Robert Moler of federal Fish and Wildlife in Sacramento told Sierra Wave that the agency "does not plan to call for a halt to fish planting in upper Inyo-Mono lakes." Mono Supervisors will deal with this issue at their meeting Tuesday.
Fish and Wildlife does want to designate critical habitat areas for two types of yellow-legged frogs and the Yosemite Toad. They are considered an important part of the chain of life in the mountains. Fish and Wildlife has determined that they are endangered and need habitat protection.
Local officials said this would interfere with recreation and tourism. Mr. Moler of Fish and Wildlife said that there would be no interference with recreation. He said that the designation of critical habitat would only mean that a federal agency would evaluate whether any new project, including new fish stocking in Forest boundaries, would result in any impact to critical habitat adverse to the amphibians. If there were a conflict, he said, Fish and Wildlife would work with that federal agency to resolve issues.
As the first item under the regular agenda, the Mono Supervisors will hold a workshop on proposals to list the amphibians as endangered and to designate critical habitat. The Board members will likely provide feedback for developing comments from the County. They will also address the potential listing as endangered of the Bi-State Sage Grouse.
An addendum to the Board agenda addresses approval of a road closure for Digital 395 construction. The closure involves a section of Round Mountain Road between Casa Diablo Road and Owens Gorge Road to allow fiber optic line installation.