When Congressman Buck McKeon visited the Eastern Sierra two weeks ago, the word on the street was that his wilderness legislation was dead in the water, and years of haggling and compromise between environmentalists and the motorized community seemed a monumental waste of time.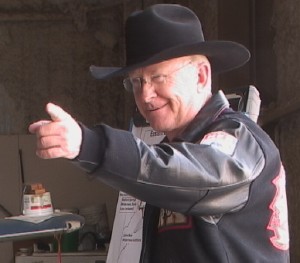 But McKeon surprised the skeptics and on Friday, May 23rd introduced the Eastern Sierra and Northern San Gabriel Rural Heritage Act (H.R. 6156), a wilderness bill that would establish over 470,000 acres of wilderness throughout the Eastern Sierra and the White Mountains, as well as wilderness in Los Angeles County.
McKeon was in Bishop Friday to unveil the proposal, which he said has been a goal of his ever since the Eastern Sierra became part of his District. The Congressman spoke about the nature of compromise, and explained that in order to get things done in Washington, people must recognize the political realities and work within those parameters.
A different version of the legislation was introduced two years ago and failed to gain momentum in Washington, but that was a much different congress and McKeon believes this time, the bill has a good shot of becoming law.
Barbara Boxer simultaneously introduced a Senate version of the same bill (S. 3069), which McKeon also believes has a good chance of passing and will put the legislation on the fast track to the President.
The bill would create many areas of Wilderness, including the Hoover and Emigrant Additions in north Mono County, Granite Mountain between Lee Vining and Benton, the Owens River Headwaters between Mammoth and June, the White Mountains in Mono County, additions to the John Muir Wilderness in Inyo County, and Magic Mountain and Pleasant View Ridge in LA County.
The Wilderness designations are only the beginning. The bill also establishes the Bridgeport Winter Recreation Area near Sonora Pass, which assures access for snowmobiling. The Ancient Bristlecone Pine Forest in the White Mountains will receive permanent protection, and the Amargosa River near Death Valley, the Owens River Headwaters, and Piru Creek in LA County are also included as Wild and Scenic Rivers.
The bill includes release language for several Wilderness Study Areas throughout Mono County, including Masonic Mountain, Mormon Meadow, Walford Springs and Granite Mountain.
McKeon joked that he and Boxer differ on almost everything, except the desire to work together and get something done. Now it will be up to the Congressman and the Senator to round up the requisite support in Washington to move the bills forward.