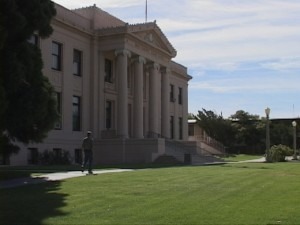 The following announcement was emailed to Sierra Wave from Inyo County Public Works.  We hope to obtain more information about this development.  Meanwhile, here is what it says:
" Wilder Barton Inc. has taken over Operation and Management of the town water systems of LONE PINE, INDEPENDENCE and LAWS, for the COUNTY of INYO.
"Wilder Barton Inc. has new office staff at their Lone Pine office located at 221 North Jackson Street, next door to Lone Pine Television.
The office hours are 10:00 AM to 2:00 PM, Monday through Friday.
Only checks and money orders made payable to; "COUNTY OF INYO" are accepted for bill and deposit payments.  Their Lone Pine office phone number is  (760) 258-5021.
They are diligently working on preparing and mailing accurate billings.  We understand that it has been a while since the public have received their last bill and we will take that into account and work with all customers who have balances due.
Should you have any billing related questions, please contact Cindy in Wilder Barton's Lone Pine office at  (760) 258-5021. "
Shannon Williams
Management Analyst
Inyo County Public Works