– Press release
Bishop, CA— In a nation where one in four teens experiences dating abuse , teens in the Eastern Sierra are using their voices and creativity to highlight healthy relationships. For Teen Dating Violence Month teens submitted poetry and art on what a healthy, happy relationship means to them.
The Wild Iris board members struggled to pick a winner out of all of the impressive entries. Finally, a powerful piece by Naomi Hawkins has been selected as the winner.
Naomi earned a $200 visa gift card as the official contest winner. When asked what she was going to do with the money, Naomi replied, "I'm going to buy books." The two runners-up, Joana Hernandez and Salma Rodriguez, also entered inspiring and creative pieces.
Wild Iris's Youth Violence Prevention team has been working with teens in Inyo and Mono Counties helping them to identify warning signs of unhealthy relationships and teaching important aspects of healthy relationships.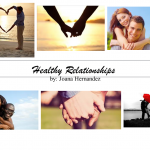 Wild Iris is a member of the California Partnership to End Domestic Violence, and engaged teens, parents and educators in a social campaign entitled ":) #relationshipsfeel" during the month of February. Weekly themes included the need for relationships to feel supportive, respectful, trusting and fun. For more information, visit wild-iris.org
About Wid Iris
Wild Iris, a community-based non-profit agency, is committed to promoting, providing, and sustaining programs of education and prevention, crisis intervention, advocacy and support for those affected by domestic violence, child abuse, and sexual assault. Our vision is for non-violent relationships based on dignity, respect, compassion, and equality. Services are confidential and provided free of charge. Wild Iris 24- Hour Crisis Line: 877-873-7384