The search for a man missing in the Whitney region continues, at last report.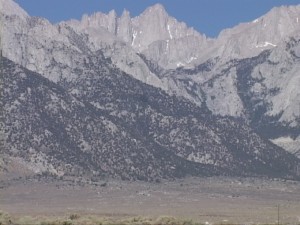 73-year-old Kenneth Wade Brunette of Hansville, Washington, was last seen Sunday afternoon headed for the summit of Mt. Whitney and has not been seen since. Brunette was reported missing on Monday October 26th. According to his wife, Wade Brunette was supposed to have reached the summit of Whitney on Sunday.
On Tuesday, search teams from Inyo, Mono, and Kern counties, along with China Lake Mountain Rescue Team members from the Ridgecrest Area, headed up the Whitney trail in snow, wind, and cold conditions to search for the missing man.
Poor flying conditions so far means that teams are on foot, making the long grind up the Whitney trail to the search area. Inyo County Sheriffs Corporal Terry Waterbury said, We are relying heavily on ground crews, adding, Due to the extreme wind conditions, we are literally at the mercy of the weather and have been unable at this point to utilize air support.
One team spent what must have been a frigid night Tuesday high in the Whitney region, in order to search Wednesday. Other teams, from Sierra Madre, and Sequoia National Park were headed to join the effort today. Better weather is expected later this week, according to Forecaster Dennis Mattinson.
Wade Brunette is described as an experienced hiker last seen wearing a blue jacket and tan pants. Anyone who has had contact with Brunette is asked to call the Inyo County Sheriffs Department at 878-0383.