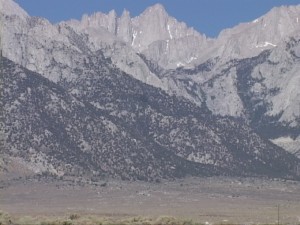 Another busy weekend for the Inyo Sheriffs Department and the volunteers with Inyo Search and Rescue after eight calls came in over three days. Unlike the weekend of July 24-26, there were no fatalities in the local back-country this past weekend.
Saturday, SAR Teams responded to the Cottonwood Lakes Trailhead out of Lone Pine for a report of a woman who needed to be carried out of the back-country. When the SAR team arrived at the trailhead, the elderly woman had made it to the trailhead.
On Sunday morning, August 2, the SAR team was called out to help an injured hang glider pilot who had landed or crash landed in the rugged and remote terrain near Baxter Pass. The victim was unable to walk out due to an ankle injury and was picked up by helicopter H-82.
Two back to back calls for overdue hikers resolved themselves. One overdue hiker in the Whitney area was just late. The other near Birch pass had car trouble.
On Monday, SAR volunteers were flown into the Lone Pine Peak area to assist a solo climber who had reportedly gone off route on the North Ridge and was stuck on a rock tower. This call came in before noon. The SAR volunteers were able to get the man to safety where he was flown out by USFS helicopter at 8:31 pm.
Immediately following the rescue on Lone Pine Peak, SAR volunteers headed right back up the trail for another rescue in the Whitney region. At 9:37 pm Monday, the Sheriffs department received a call for a woman with extreme altitude sickness near Lone Pine Lake on the Whitney Trail. SAR Volunteers hiked up to administer aid and were able to walk the victim out by 5:20 am Tuesday.
Also on Monday, the Sheriffs Department took a call for an overdue Forest Service employee in Big Pine Creek Canyon. The employee turned up two hours later. The Sheriffs Department received a second Monday call for an overdue hiker that resolved within an hour.