A cabin-owner in the Whitney Portal area said fire started Tuesday night in Camp spot #39 and spread from there. The Inyo Sheriff's Department logged the report of the fire at about 9:35. The Lone Pine Fire Department almost single handedly put out the potentially damaging blaze.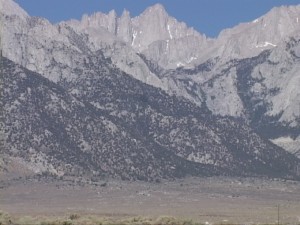 Sheriff's Department spokesman said that when deputies arrived, the fire was burning about a half acre and had the potential of quickly spreading. That kind of fire could have trapped the more than 100 campers in the area, so deputies immediately evacuated all campgrounds, including cabin housing. The Bad Water to Whitney Marathon Run was also interrupted.
Some evacuees went to Statham Hall where the county had set up a shelter. Whitney Portal Road remained closed until about 7am Wednesday morning. The cause of the fire is under investigation.
We placed calls to the Forest Service for more information on reports that they did not immediately respond to the fire on forest land. We did receive a press release from the USFS. It says that about 40 personnel were assigned to the fire – Lone Pine Volunteer Fire Department, CalFire, BLM and Inyo National Forest. Reports indicated that Lone Pine Fire arrived first and fought alone for a time. We don't know when the other units arrived.