100 years ago, scientists used the Whitney Hut on the summit of Mt. Whitney to, in part, study the planet Mars. It's unknown what prompted that particular curiosity, but the hut was also used for storage and shelter. Thursday, the Forest Service and others planned to celebrate the centennial of the little stone hut.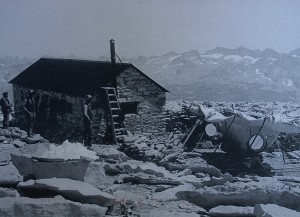 The celebration – set for 10 am at the Whitney Portal Day Use Area. The hut, more formally known as the Mount Whitney Smithsonian Institution Shelter. It was the Smithsonian that initially supported the shelter, along with the US Weather Bureau. Construction funds were provided by the Smithsonian's "Thomas G. Hodgkins Fund."
Historic data show that scientists wanted to observe Mars from the highest point in the U.S. to figure out if there is much water vapor on Mars. Their findings indicated there was some water vapor. The observation from Mt. Whitney came at a time of year in which Mars was close to the earth and high in the sky.
In 1977 the Mount Whitney Smithsonian Institution Shelter was listed in the National Register of Historic Places. The Centennial Celebration recognizses all who have hiked to the summit and seen the shelter with special appreciation for construction foreman Gustafe Marsh of Lone Pine and his crew who were key to building the shelter in time for the 1909 observations of Mars.