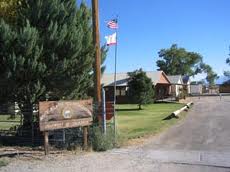 Under hard times in State government, cutbacks have come down on the University of California.  As a result the White Mountain Research Station in Bishop has suffered budget cuts and plans to partially close down its Owens Valley Facility this winter and spring.
According to a press release, the Research Station will close its dormitory and kitchen facilities.  The 2012 summer operations at the upper stations of Crooked Creek and Barcroft will be normal, but operations at the Owens Valley facility may remain curtailed.
Director of the station, Frank Powell, is quoted as saying that White Mountain Research has been assured of an operating budget for the next several years and will continue its mission of supporting research and education in the White Mountains and surrounding areas.
Officials also said that White Mountain Research is being considered for inclusion in the UCLA Institute for the Environment.  This organization would offer a new home for White Mountain at UCLA.  Mr. Powell said switching to a new campus would bring about some reorganization.  He said that right now the fates of the popular Thursday night public lecture series and the Barcroft Open House have not yet been determined for 2012.