Snowfall may only add up to a few inches on the ground, but it adds up to confidence and good cheer above ground.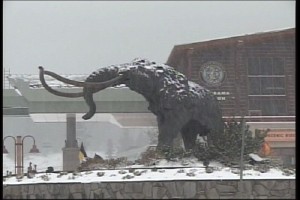 Mammoth Mountain's Wooly Mammoth stood frosted after the recent front started to move through. Plans stand firm on the official opening of the Ski Area for November 8, 2007, with a celebration on November 10th.
The weather patterns for this winter in the Eastern Sierra still stand in the familiar mystery category with predictions for a La Nina effect in the Pacific. As climatologist at Scripps Institute, Dr. Daniel Cayan said, the La Nina usually means dry or normal in the southwest and very wet in the northwest.
We live in the middle land where it could go either way or somewhere in between. Most were just enjoying the cool weather and change of season.