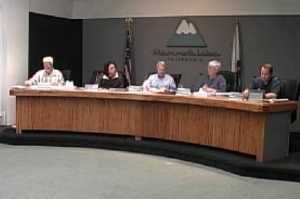 With a relatively short agenda, the Mammoth Town Council meets Wednesday at 6pm.
The first item is a presentation by Interim Town Manager Dan Holler on the recent trip to Whistler by Holler and Councilmen John Eastman and Matthew Lehman.
Eastman spoke about the trip at the Council's last meeting. He touched on a number of familiar resort aspects like employee housing, development, and special events. Eastman thought the take-away messages was for the Town to provide incentives to developers to re-energize investment in the Mammoth community. Holler will offer his impressions Wednesday night.
Under the consent agenda, the Council will consider approval of the contract with Andrew Morris for Town Attorney services and a contract with his firm, Best, Best & Krieger pending final review.
A public hearing will be opened and continued to January 15th regarding adoption of an ordinance to amend the title in municipal code to reflect the current name of the airport, Mammoth Yosemite Airport.
Under policy matters, the Council may award the contract for the Lower Canyon Boulevard Rehabilitation Project. And, the Council will review the Town's Sold Waste Program and opportunities to increase recycling and diversion.
On that note, some citizens have expressed concerns that the Town might prematurely build an expensive recycling center or purchase land at the Industrial Park for such a project without full public review. Interim Manager Holler had assured there would be public discussion about these matters before determining the best route for Mammoth Lakes.