National media attention has focused on the collapse of a gondola tower at the Whistler Blackcomb Ski Area in British Columbia. Nobody was killed in this accident, but 50 people were rescued from 30 gondola cars. Five people were reportedly hospitalized.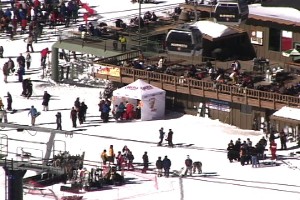 The gondola at Whistler was built by Doppelmayr, the same company that built the gondolas at Mammoth. While staff at Mammoth Mountain is constantly inspecting the equipment on the slopes, in the wake of this accident crews were sent out Wednesday to check on the towers on the Panorama and Village Gondolas. Greg Dallas, Vice President of Operations and Maintenance at Mammoth Mountain reports that crews found no problems with the gondola towers, nor were any problems expected.
In Whistler the two-piece gondola tower broke off roughly thirty feet in the air. Details are still coming in, but Dallas explained that the tower had filled with water, which then froze and expanded, breaking the tower at the joint where the two-piece tower was connected. How the tower filled with so much water is not yet known, but at Mammoth, crews were out looking for any sign of water or corrosion on the two-piece towers. Fortunately, they came up empty.
Dallas explained that crews perform various inspections monthly and yearly and even daily. During the summer when the towers are not buried in the snow the crews perform thorough inspections. When the wind triggers an alarm and a lift is shut down, crews go out to the tower that triggered the alarm and visually inspect the tower.
Dallas explained that in 1992 a two piece tower at a different North American Ski Resort broke in half. This triggered annual inspections at ski resorts for water in the towers. Dallas says that those inspections have since been incorporated into Mammoths regular inspection schedule.