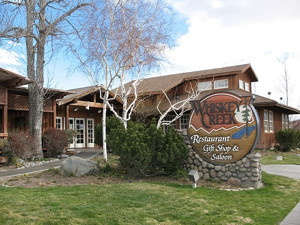 In years past, Whiskey Creek restaurants in Bishop and Mammoth were kind of the "place to go." No more. Friday, owner Greg Alexander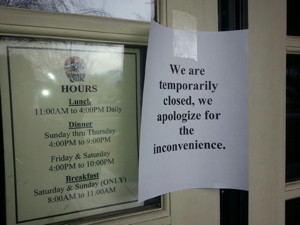 closed the doors of both restaurants. Something like 100 people between the two businesses have lost jobs. Alexander said losses in Mammoth brought down Bishop.
When they heard the news, local residents said they were sad about more depressing news. Whiskey Creek Bishop was a favorite watering hole and dinner house back in the 70s when Sam Walker rebuilt the Kitty Lee Inn. Walker also opened Whiskey Creek Mammoth until he sold both to Greg Alexander about 15 years ago.
Two years ago, Alexander invited a room full of local business owners to the Bishop restaurant where he explained at great length how he had lost the Mammoth business due to real estate machinations and then leased it back. Alexander also described a new remodel then underway in Bishop. It all sounded hopeful and even reminiscent of the older and cozier Whiskey Creek of the 70s which was complete with fireplace, lots of carpet, cushy booths and the most popular bar in town back then.
The last two years did not realize the hope anticipated. Alexander had let the word out that he planned to shut things down on January 24th. He lost his lease to Mammoth Brewing that will move operations into the old Whiskey Creek Mammoth. Alexander told Sierra Wave Media that both restaurants are in a C Corporation and could not be separated easily. He said, "The losses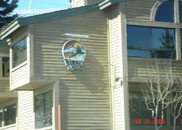 in Mammoth brought down Bishop."
Alexander called the Bishop restaurant "a good stand alone. We were planning only to be in Bishop but decided to spend one more winter in Mammoth. We really haven't had a good winter in four years," he said. The restaurateur said the Mammoth shop was down $200,000 in January. He said, "I didn't feel like keeping Mammoth open one more winter was a big risk. That was my Achilles heel," he said.
Alexander explained that his company, High Sierra Hospitality, bought the stock of Whiskey Creek, Incorporated, which included the Bishop and Mammoth restaurants and Angels. He said creditors can come after Bishop for Mammoth's obligations – not a financially sustainable situation, he said.
Alexander also named the RIM Fire and government shutdown as big problems last Fall and pointed to the current occupancy rate in Mammoth at 32% for the weekend. He also noted that there is "far more competition in Mammoth now. You have to see those things out. The Village is right behind me."
When we talked to Alexander, he had just finished an hour-long sit-down with Whiskey Creek founder and holder of a note on the business, Sam Walker. Said Alexander, "Sam said he was so sorry. It was bad luck." Overall, he said people were very kind on the dark day of closure. With hope hard to muster, Alexander said, "We may work at trying to revive this. People are already inquiring." Meanwhile, the Varsity Soccer coach wants to stay in Bishop for his family.