During public comment at the March 4 Town Council meeting, Mammoth local Ali Feinberg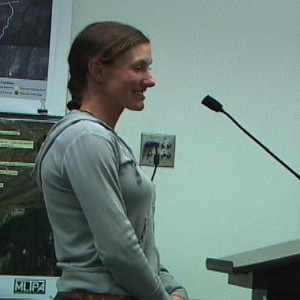 came forward to express her concern about the lack of viable space for dog owners to allow their pets to run free. Ever since the Forest Service has cracked down on the leash law at Shady Rest, dog owners have been using Sherwin Creek Road as their new outlet for off leash activity.
Feinberg had gone out earlier in the day to walk her dogs. When she came back to her car she found a parking ticket on it. All of the other cars who had been parked along the road had also received citations.
When Feinberg asked the officer passing out the tickets about the citation, he explained that because the road is not properly plowed and there is not enough room for two ways of traffic to get by, parking there is illegal.
However, there is no parking lot in the area where people trying to access Sherwin Creek Road and the backcountry beyond can park legally. The problem is continuing to escalate and is affecting a large portion of the population because many people in Mammoth own dogs, use the backcountry or both.
Mayor Pro Tem Neil McCarroll stated that he and Councilwoman Jo Bacon were currently working with Chadmar and the Snowcreek VIII development to get parking out there and alleviate this problem.