Incident Update as prescribed burns below Big Pine gets a little out of control.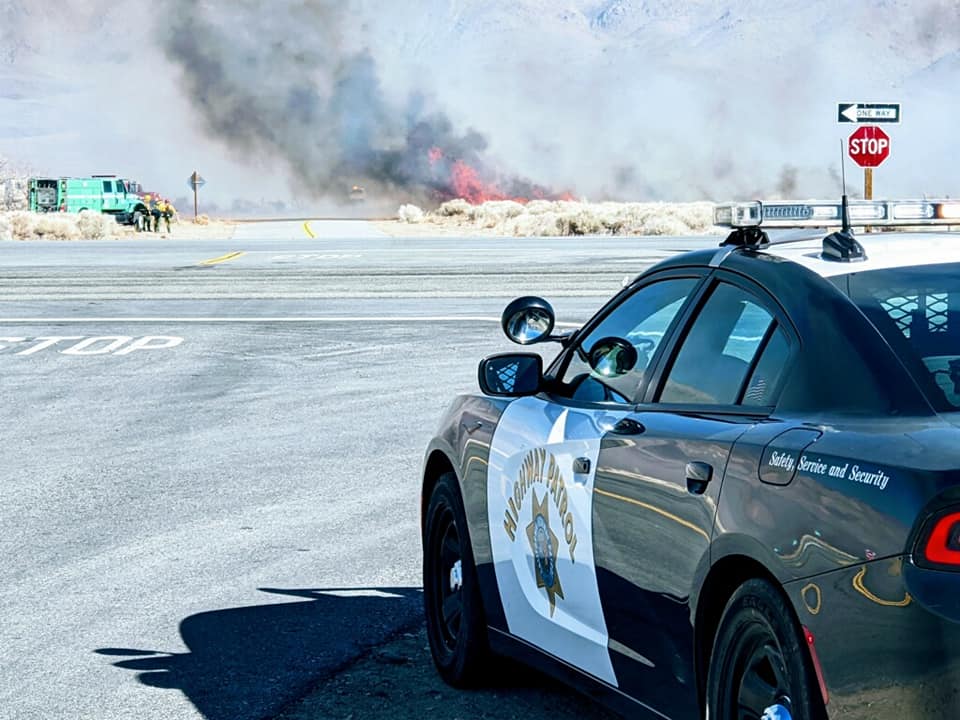 Bishop CHP Officer Otten took this photo of the fire as it was happening on Monday south of Big Pine.When CAL FIRE San Bernardino Unit announced a prescribed fire (presumably, controlled fire) / vegetation management project near Big Pine, California on Sunday, February 28, it didn't anticipate that it just might get a little away from them. The burning operations began on March 1, 2021 at 8 AM and was expected to conclude March 2nd by 8 PM.
The area to be burned is located near Goodale Rd X HWY 395 (approximately midway between Big Pine and Independence, CA). Project will consist of two burn plots for a total of approximately 200 acres. The prescribed burn will provide for ecosystem restoration, habitat enhancement for multiple species, and protecting nearby community's and the environment from future fires.
Thing got a little touch and go as the wind kicked up suddenly around 12:30 p.m. when winds blowing from the south at around 20 m.p.h. and smoke began to affect visibility all the way north to Chalfant Valley, CAL FIRE called for extra backup. A long line of CAL FIRE units could be seen working their way north along Hwy 395 around 9:00 p.m. on Monday night to assist with the fire.
The smoke from the fire could be smelled by many residents in Bishop. Bishop Cal Fire Battalion Chief Matt Edmiston assured everyone that everything was under control.  CHP was also on the scene to close Highway 395 should the smoke become too heavy, or the fire threaten to cross the highway.
The controlled burn on LADWP land has been canceled for Tuesday as the fire crews were still working to control the fire and the latest report issued last night (Tuesday) around 9:00 p.m. indicated that the fire was still at 77 acres and is now 50% contained.