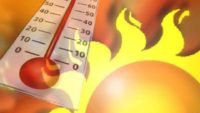 Reporter Deb Murphy filed this report on What Sierra Wave Weather Forecaster Dennis Mattinson has to say on the Triple Digit Heat:
Okay, temperatures in the low 100s in the Owens Valley aren't really newsworthy when the heat streak covers a couple of days in late summer. But a check of the National Weather Service's website to confirm when the Valley would settle down to normal revealed it won't, at least not for the foreseeable future.
Petunias are wilting, dog is laying in front of the swamp cooler, a pint of Haagen-Dazs doesn't help. Next step: call KSRW's weather guru Dennis Mattinson to find out what's going on and when it'll stop.
Bad idea.
"In the big scheme of things, we'll continue to have erratic weather with longer summers and erratic winter precipitation," he said. But, he didn't stop there. The snowpack in the Sierra's was 300-inches this year, half of last year's measurements. "It's going to get worse."
A high-pressure system seems to have established permanent residence: 592 decameters is normal, with a rare jump to 595 dms. We're at 598 dms.
"That's unprecedented," Mattinson said. "Bishop broke heat records for three consecutive days," he added. When heat records are broken, it's usually by a couple of degrees, but Bishop temperatures were 10-15 degrees above the previous record.
We're getting more hurricanes across the country, Lake Mead and other western water reservoirs are at historical lows. The Pacific Northwest and into British Columbia are seeing record temperatures: 116 in Portland, Oregon and 121 in British Columbia.
"It's going to get exponentially worse," Mattinson said. Makes sense. If the baseline temperatures are that much higher than normal, "heat waves" take on a new meaning.
According to a New York Times article, an international team of 27 scientists calculated that climate change increased chances of the extreme heat occurring by at least 150 times. "The deadly heat wave that roasted the Pacific Northwest and western Canada was virtually impossible without human-caused climate change that added a few extra degrees to the record-smashing temperatures," a new quick scientific analysis found.
So, is this tangible evidence of climate change? Ya' think?