Weather watchers and snow fanatics wondering when the big dump will come in can take heart in a recent National Weather Service climate prediction that calls for wet weather over the next three months.
Sierra Waves Forecaster Dennis Mattinson has noted a moderate El Nino effect which could lead to an above normal year for precipitation in the Eastern Sierra. Mattinson now has the National Weather Service to back him up on his prediction.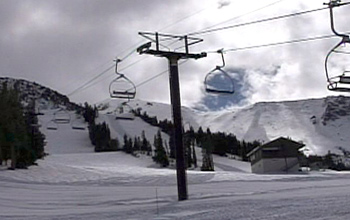 According to the most recent update on the National Weather Service Climate Prediction Center , there is the potential for above normal precipitation for California during November, December and January.
Forecasters are calling for a wet winter, but even bad years have good days. Many experienced weather watchers know that winter will come eventually. The question is when. Mattinson says that November is the usual start to the snowy season for the Sierra and adds that storms big enough to make it over the crest into the Owens Valley typically dont arrive until Thanksgiving or so. This year has already brought one Pacific storm that dropped an average of one inch of rain on the Owens Valley, Mattinson explained.
At Mammoth Mountain, the Ski Area lists 26.2 inches as the average snowfall for November. The big months for snowfall are December with a 63.4 inch average, January with a 67.6 inch average, and the biggest month is February with an average of 73.5 inches of snowfall at Mammoth Mountain.
We will have to check back in a few months to see if this National Weather Service prediction comes to pass. In the meantime, fall has been beautiful here in the Eastern Sierra, with one big storm to whet the appetite of the snow fans. Warm temperatures have allowed us a few extra weekends of warmth to cut wood, take a hike, a ride or go fishing. Its blustery now, but if and when the clear weather returns, enjoy it while it lasts.