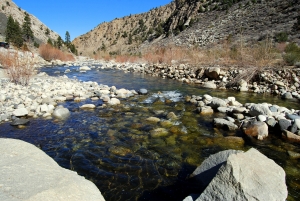 West Walker Opens to Year-Round Fishing March 1  (press release)
MONO COUNTY, Calif., (Feb. 26, 2014) – Early-season fishing is about to get even better in Mono County with the West Walker River opening for year-round fishing March 1.
The West Walker River is located in northern Mono County, just north of state route 108/U.S. Route 395 at the 395 highway bridge to the Topaz Lake inlet. It is one of a handful of rivers that will be open for year-round fishing this winter/early spring. Other spots already open include the East Walker River, Hot Creek, Owens River, and the Owens River Gorge.
Year-round regulations (catch and release on public land with barbless artificial flies and lures only) are in effect until April 26, when the regular fishing season begins. Approximately 1500 pounds of fish will be planted in the West Walker River before it opens March 1.
"We have worked hard to get the year-round fishing of the West Walker River approved by the Department of Fish and Wildlife.  This provides a few more months of fishing to our visitors, which we feel will be very successful.  We hope that the West Walker River will become a blue ribbon trout stream in the not-too distant future,"  said Robert Dunn, one of Mono County's fishery commissioners.
For conditions or expert advice, check in with Walker River Outfitters or Ken's Sporting Goods, both located in Bridgeport.  Also, the Sierra Drifters website posts frequently updated reports on fishing conditions although this site tends to be more focused on the Owens River and Hot Creek, which are located further south in Mono County.
Located approximately 315 miles north of Los Angeles, and 280 miles east of San Francisco, Mono County accesses the east entrance to Yosemite National Park and beckons visitors in all seasons.  Whether taking advantage of convenient direct flights from Los Angeles International Airport (LAX) to Mammoth Yosemite Airport (MMH) or arriving by car on the all-weather US Hwy. 395, the Eastern Sierra's vast playground is an easily reached destination.  US Hwy. 395, which traverses Mono County from north to south, is a State Designated Scenic Byway offering motorists tremendous vistas right from the steering wheel and side-roads, hiking trails, lakes, and roadside villages and towns to explore.  For more information or to request guides, visit MonoCounty.org or call 800-845-7922.