With full-on summer and mosquito season in bloom, Inyo-Mono Public Health Officer Dr. Rick Johnson reminds us to remember West Nile Virus – a disease transmitted by mosquitoes to birds, horses and humans.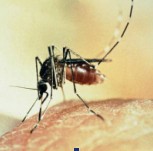 Dr. Johnson said that typically people develop symptoms from 3 to 14 days after they are bitten by an infected mosquito. Symptoms mimic the flu in many cases. People over the age of 50 have a higher chance of getting sick and are more likely to develop serious symptoms when infected with West Nile virus.
The main thing – protect against mosquito bites. Mosquito control efforts in both of our counties help reduce the numbers of the insects. We should also remove standing, stagnant water sources where mosquitoes can breed.
Wear long sleeves and pants, particularly at dusk and dawn. Use insect repellent. Keep mosquitoes out of your home.
No cases of West Nile Virus have been confirmed in either Mono or Inyo counties this year.